AID-70/50 discontinued
26.02.2014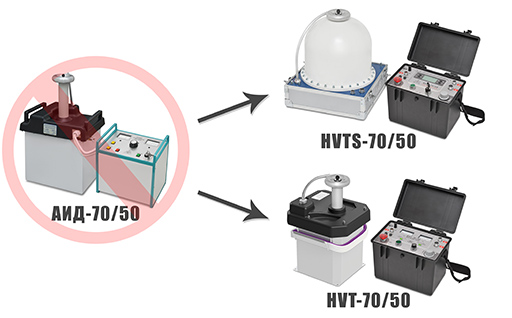 An insulation testing unit AID-70/50 discontinued as a model obsolete, does not meet the requirements of modern dielectrics, safety and ease of operation.
LTD "Kharkovenergopribor" launched a new-generation devices: HVTS-70/50 and HVT-70/50, which not only fully replace the old model - get energy equipment in use, opening new opportunities trials in solid dielectrics, on the order increases safety but also deliver quality and ease of use to a new level of work. A fundamentally different approach to production engineering test equipment has a new, higher level of reliability and ease of devices operation.
These devices are designed as a control unit and a high voltage unit. HVTS (digital control) and HVT (analog control) and can be equipped to choose from, the high voltage unit with HVU-L oil or gas-insulated HVU-G (four options delivery HVTS + HVU-G, HVTS + HVU-L, HVT + HVU-L and HVT + HVU-G). At the same time are recommended HVTS + HVU-G and HVT + HVU-L.
Below is a summary table of the main advantages of the apparatus.
Control Unit

HVTS
HVT

Increased resilience

Made in the case with a tight fitting lid that prevents dust and moisture during transport

•

•

Mobility

Equipped with a conveying belt and can easily be carried by one man

•

•

Analog display

Control panel is equipped with two analog indicators voltage and amperage

•*

•

Improved accuracy characteristics

Measures the RMS voltage and AC current, independent of the curve shape (True RMS). Thus, excluded error caused voltage waveform distortion on the test object



•

High contrast graphic display

Equipped with a high-contrast graphical display. Managing and Configuring the contextual menu by pressing the buttons located on the left and right of the display. In test mode simultaneously displays all the measuring and supporting information

•

Process Automation Test

Has the ability to test in automatic and manual mode. In automatic mode the voltage rise at a specified rate to a predetermined value, followed by exposure to the object of his trial testimony fixing voltage and amperage and voltage final gradual decrease to zero

•

Storing data in non-volatile memory

Ability to save parameter settings for the eight most common types of tests conducted, as well as archive storage of measurement data of the test

•

Security

The display shows the voltage directly at the output from the high-voltage unit that increases the degree of protection. Has protection circuits exceeding the value of the current to the output of the high voltage

•

Additional protection

Blocks work gas-insulated high-voltage unit in the case of low blood pressure or excessive temperatures. Shuts off power to the high-voltage unit in excess of the specified value of the current in its supply chain

•
High Voltage Unit

HVU-G
HVU-L

Basic protection operator

External shorting Equipped with visual position. Allows you to take charge remaining after reducing the voltage at the output of the control unit to zero

•

•

Additional protection

Equipped with built-in sensors gas pressure and temperature

•

Reduced size and weight

•

•
Back